The third card-only expansion for Eldritch Horror. Requires the core set to play.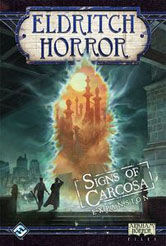 Box Contents
This expansion introduces Talent Conditions and uses Impairment mechanics. It also contains Glamour spells, Unique Assets and Preludes.
Ancient Ones
The expansion contains the following Ancient One:
Hastur
Hastur has 8 Mysteries listed here, 24 Research Encounter cards and 32 Special Encounter cards (Cities on the Lake, King in Yellow and Unspeakable One Final Mystery).
Investigators
This box contains the 4 Investigators below:
Artifacts
It contains the 4 Artifacts below:
Spells
The box contains 12 Spell cards listed here. Each spell has 4 variants.
Assets
It contains its 16 Asset cards, as we see here:
Unique Assets
This expansion contains 16 Unique Assets, listed here:
Conditions
It contains 28 Conditions cards, listed here:
Preludes
The box contains 4 Prelude cards listed here.
Monsters
The expansion contains 8 Monster tokens (6 normal, 2 epic).
Links
Contents and Description on BoardGameGeek.com
Community content is available under
CC-BY-SA
unless otherwise noted.