The first card + board expansion for Eldritch Horror . Requires the core set to play.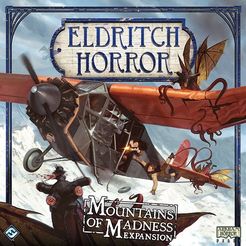 Box Contents
This expansion introduces Focus mechanics, Unique Assets and Preludes. It also introduces another new concept with its 12 Antarctica adventures.
Ancient Ones
The expansion contains the 2 Ancient Ones below:
Elder Things
The Elder Things has 8 Mysteries listed here, 24 Research Encounter cards and 16 Special Encounter cards (A Dark God Final Mystery and Mysterious Disappearances). It uses the Antarctica Map Board with its 32 encounter cards and 16 Antarctica research cards.
Ithaqua
Ithaqua has 6 Mysteries listed here, 24 Research Encounter cards and 8 Special Encounter cards (Exploring Hyperborea).
Investigators
This box contains the 8 Investigators below:
Artifacts
It contains the 8 Artifacts below:
Spells
The box contains 16 Spell cards listed here. Each spell has 4 variants.
Assets
It contains its 16 Asset cards, as we see here:
Unique Assets
This expansion contains 42 Unique Assets, listed here:
Conditions
It contains 32 Conditions cards, listed here:
Preludes
The box contains 6 Prelude cards listed here.
Mythos
It also contains the 26 Mythos cards listed below:
Monsters
The expansion contains 22 Monster tokens (14 normal, 8 epic).
Links
Contents and Description on BoardGameGeek.com
Community content is available under
CC-BY-SA
unless otherwise noted.